The core of our business is landscape maintenance. Our talented team is trained to use proper horticultural maintenance practices for all our accounts. Beauty is in the details, and we pay attention to all those details that set your property apart and highlight your landscape. We take satisfaction when your property is thriving and looking its best.


With our yearly maintenance accounts, we like to start the season off right with a spring cleanup. Our team dethatches and mows the turf, disposes of the winter sand, cleans up the planting beds, and gives those planting beds crisp new edges for a defined look. The finishing touch is a fresh layer of bark mulch on the planting beds, carefully applied with our bark mulch blower.

In May, we begin a customized mowing program for you. We will keep an eye for all those details that will give your property a great landscape. Using the right mower for the job, we create mowing patterns reminiscent of your favorite golf course. Planting bed edges are trimmed and kept clean and fresh, and hardscape areas are blown clean for a finished look.

We prune all types of ornamental shrubs and trees up to fifteen feet tall, taking into consideration the species and the best time of season for each to prune. Our team knows when to sheer with hedge trimmers and when to selectively clip with hand pruners. Proper techniques play in the overall health and beauty of your trees and shrubs, and we pay attention to those details.

When the leaves have changed color and begin to fall, our fall cleanup crew is out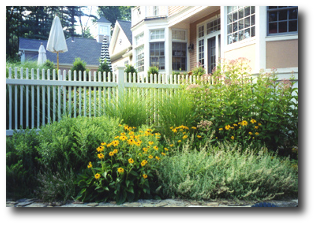 in full force. We make multiple visits to your property throughout the fall season. With modern equipment we clean leaves from your entire property, vacuum them into a truck and take them away leaving your landscape ready for the winter months ahead.

You will often see a Birch Landscape crew working on the finest properties in the area, and most of those clients come through referrals from other satisfied customers. You can be assured that your property will look its best when we are caring for it.